Tires make one of the most important aspects of any vehicle. You cannot drive around a vehicle smoothly without good tires. But when it comes to off-roading, you need tires that are designed to take the heat. The off-roading performance of a tire can make or break its sale.
Having the best quality tire on the trail doesn't only give you a great experience, but can also help you out of a sticky situation.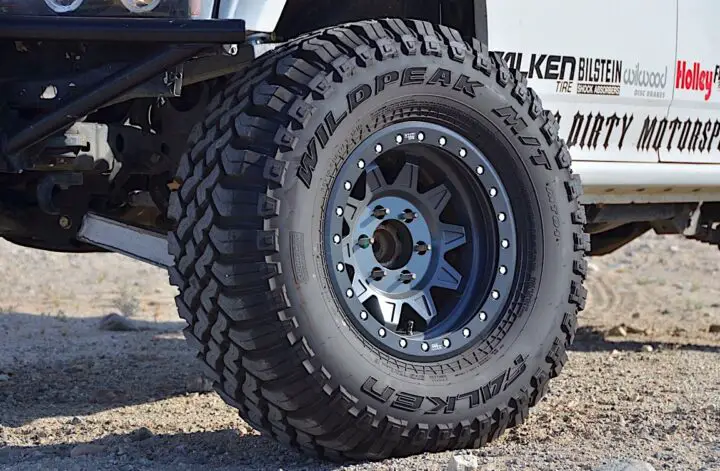 Falken's all-new re-engineered Falken Mud Terrain is the counterpart to Wildpeak A/T3W. It features a rugged tread design that is built for serious off-road performance.
Falken Wildpeak M/T uses a softer tread compound to go with tapered and taller lugs. This provides increased grip on most road surfaces and terrains while maintaining a good clean-out capability.
In this Falken Wildpeak MT review, we are going to cover every detail that you should know about this tire. If you are in search of a tire for great off-roading performance, then you should give this article a read.
Falken Wildpeak M/T Tire: Brief Overview
As you already know mud tires are the most extreme tires out there. To get the most out of your vehicle on off-road performance, you need the best mud tires in the market. In this case, you can trust Falken Wildpeak M/T. After all, it is one of the best mud tires out there. It is not just good for off-roading performance, but also highway experiences.
There are very few mud tires that are smooth on both types of road surfaces. With the new Falken Wildpeak M/T, you can get the best driving experience.
You shouldn't expect mud tires to ride as smoothly as highway terrain tires or A/T tires. However, some tires are easier to bear at slow to moderate speeds. But the point is that you don't buy mud tires for comfortable or smooth rides. This is something you should keep in mind while buying mud tires.
Mud tires are specially designed for extreme off-road performance. From crossing rivers to riding over rocky surfaces, it can handle it all. The new Falken Wildpeak M/T with its softer compound and rugged tread design is built for some serious off-road performance. Whether climbing rocks or driving on the trails, the WildPeak M/T01 can handle itself well.
Gravel, grass, dirt, mud, rock, and sand are easy to navigate on this tire. It simply helps you get up over the rocks without much effort. It has 3-ply DuraSpec sidewall construction that adds to the toughness and protects you against sidewall damage. For a tire within this budget, it delivers excellent performance.
Falken has proved that an MT tire can also be civilized enough to ride the streets. This is a great thing as drivers spend most of their time driving on the street. Even with such an aggressive tread built, road noise is pretty low. Not just that, but it also gives you a comfortable ride.
Falken has released non-LT and 25 LT sizes ranging from 15-20 inches. You can expect to see more different sizes in the future. All the models feature either a load range rating of E or C.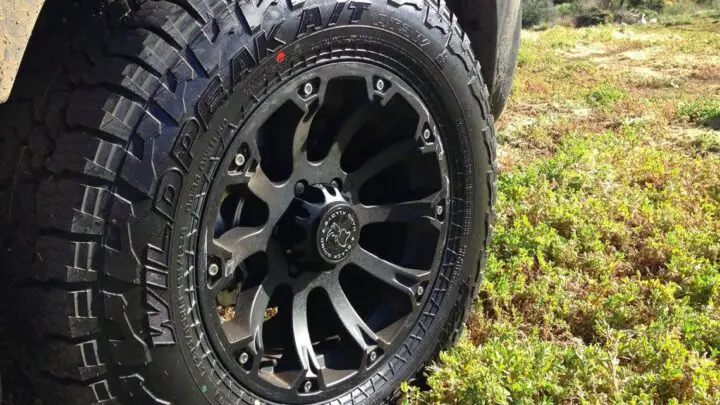 Falken Wildpeak M/T Test Drive Review
The Falken Wildpeak M/T is tested on a variety of dry and wet surfaces. It has also been tested on a bit of snow and off-road terrain.
Dry Traction
The Falken Wildpeak M/T is great for driving on dry pavement as it doesn't lose much traction. Even the steering remains fairly responsive. with tires feeling above average on the highway.
Wet Traction
Besides dry traction, the tires also give a great performance on wet and slippery road surfaces. Whether there are water puddles or clogging on the road, Wildpeak M/T tires can simply roll over them like it is nothing. However, the off-road trail could feel a bit damp, but that shouldn't be a big problem.
Snow Traction
As far as snow traction is concerned, it can handle multiple inches of snow. The tires may slip a bit, if you are a skilled driver, you can get through the slippery surface with ease. The trick is to tread slowly and minimize steering inputs. Regardless of anything else, the tires feel good on snow.
Comfort
If you are wondering about comfort, you should be happy to know that it is above average. For a mud tire, the Falken Wildpeak M/T feels great on the highway. It also gives a pretty great performance off-road. However, the tires need to more comfortable to be used on normal roads.
Noise
Due to the tread design, you would expect Falken Wildpeak M/T to be extremely noisy. However, that is not the case. The tires roll smoothly without producing much noise. However, it is not as silent as a touring tire, but for an off-road tire, it is pretty quiet.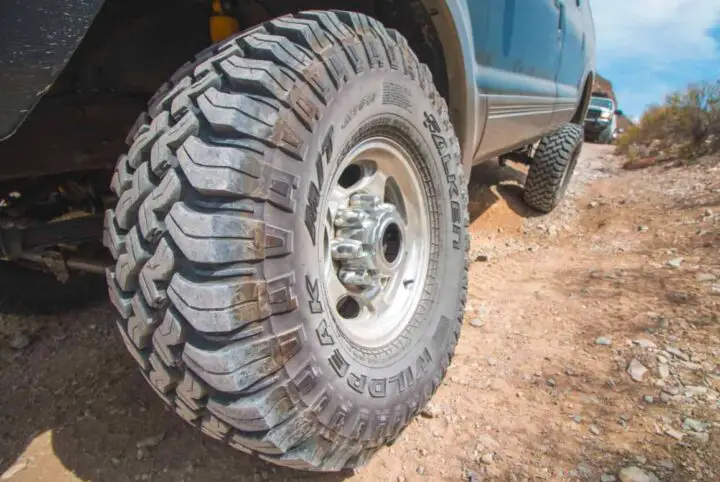 How Is Its Performance Off Road?
Compared to all-terrain tires, the Wildpeak M/T is more athletic and bigger. It is also more rugged compared to all-terrain tires. But if you talk about smooth performance and grace, all-terrain tires like the Wildpeak A/T3W take the limelight.
As far as, off-road performance is concerned, the Falken Wildpeak M/T makes the better option. It is also capable of tackling deep snow in extreme weather conditions. The performance of the Wildpeak M/T only gets better with poor-quality roads.
How Is Highway Performance?
Coming to high performance, you will slightly find it stiff and get some tire roars as well. But it gives you better performance than most other mud tires on the highway. It runs fairly smoothly on a highway road. You cannot expect it to remain quiet as you breach the speed limit. However, if you are driving at a normal speed, you won't be disappointed.
The tire roar gets bad as you go above 60 to 80 mph. So when driving on a highway, you should try to keep things on the low. Understand that mud tires are specially designed for off-road driving. So anything extra that you get is a bonus!
Another great thing is that it is not as expensive as other mud tires. Despite a low price tag, it gives you pretty great performance.
How Does It Perform In Wet And Dry Conditions?
Now coming to the part where we will discuss how Falken Wildpeak M/T will perform in wet or dry conditions. If you prefer to drive your SUV mostly on the highway, A/T tires would make a better option. This is because installing chunkier tires, for this reason, is just going to be a waste of money.
But if you go out on frequent extreme off-road rides with your truck, then the Falken Wildpeak M/T is the best option for you. The tires offer above-average comfort. Not just that, but they also produce less noise compared to any other off-road tire.
However, all of this still depends on the suspension and NVH of your vehicle. For example, if your SUV has off-road suspension and off-road kits, you will have a bouncy ride even on smooth roads.
If you are expecting better wet handling and high-speed stability from the Falken M/T tires, then you are sure to get disappointed.
For grass, rough roads, loose gravel, sand, mud, or dirt, the Falken Wildpeak M/T is the best choice you can get. It is one of the finest mud tires, the performance of which only gets better with rougher roads.
Features of the Falken Wildpeak M/T
Falken Wildpeak M/T is designed for superior off-road performance. It is equipped with a three-ply Duraspec sidewall to give you the best performance. The tire uses Falken's proprietary technology that makes it more durable and reliable even in the worst off-road conditions.
Besides three plies of the sidewall, the tires also boast twin ply turn-ups for an extra layer of protection against sudden punctures. Not just that, but it is also designed with larger and more rigid tread blocks.
Just so you know the edges of the tread blocks feature the same step-down design as the Wildpeak A/T3W. This particular design ensures excellent grip and also prevents stones from getting trapped inside the blocks.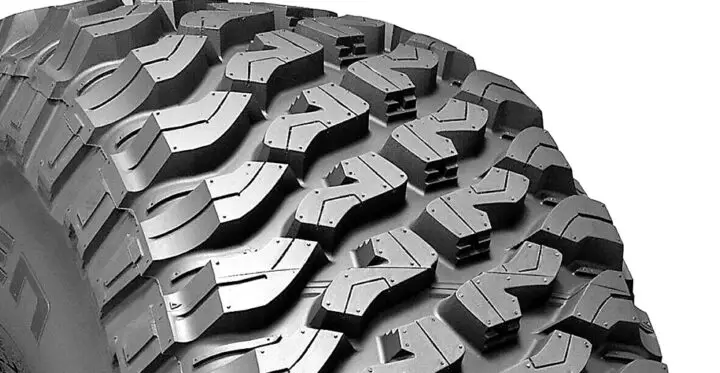 The tread blocks also have defense features that ensure maximum grip while stopping rocks from puncturing the base of the tread. The lower sidewall comes with the patent heat shield technology that helps the tire to dissipate heat. This combined with the optimized tread design helps the tire to maintain a quieter and smoother ride in highway driving.
Pros
Excellent performance on off-road terrains
Mild-mannered on normal roads
Quiet
Excellent tread designs
Affordable
High-quality
Cons
Softer compound reduces tread life
Final Thoughts
Given the features and performance of the Falken Wildpeak M/T, there's no doubt that this is one of the best off-road tires you will get. It also does a great job when it comes to driving on normal roads and streets. It is one of the mu tire models that come with reduced road noise.
The only thing that is a little disappointing is the tread life. The softer compound reduces the tread life of the tire. Besides that, everything about this tire is great. Hopefully, you found this Falken Wildpeak mt01 review helpful.