Mickey Thompson Deegan tires are US-made, high-quality tires that are on the upper end of price and quality. Overall the brand is made by Max-Trac Tire Co since 1962 by the man himself, Mickey Thompson racing legend and this includes Mickey Thompson Deegan 38 tires.
Mickey Thompson was a legend and hall of famer. From being the first Yankee to pass 400 MPH, to winning multiple drag racing titles, to forming SCORE and being one of the most influential racing minds in the sport until he was gunned down by a business partner in 1988. The Californian was simply a badass.
Coming from that background someone who holds more speed records than probably anyone demands the absolute best. He wouldn't put his name on a tire that wasn't. So assume if you buy Mickey Thompson Tires you are going to buy some of the best tires money can buy.
Specifically, the Mickey Thompson Deegan model size 38-inch tire is an all-terrain 10 ply tire that is made in the USA. The warranty on the tires has a minimum mileage of 55,000 miles.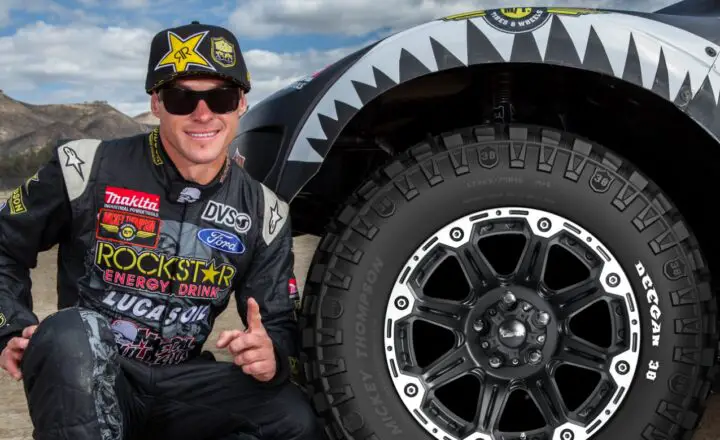 The tire was designed in partnership with motocross maniac Brian Deegan. Wrong sport, but right idea. They combined to produce a tire for his lifestyle that involves mixing concrete and offroad handling, and as a pro rider, he doesn't want some slicks buddy boy.
The Mickey Thompson Deegan 38 is a relatively mild tire tread in comparison to other more aggressive all-terrain tires on the market. The sidewall doesn't show much, and driving on the street it looks like a solid commuter tire that will keep your confidence high.
Don't think that you won't have a lot of fun if you go off-roading, though. It has silica added to the tread, banging warranty, body cords make this one of Mickey Thompson's best-looking and all-around great performing tires.
Is The Mickey Thompson Deegan 38 All Terrain Or Only Off-Road Tires?
Yes, Mickey Thompson Deegan 38 inch tires are all-terrain tires. They will offer great performance in almost all driving conditions. With these tires, you will be able to leave your garage with your dirt bikes in your pickup, ride all day through freeway traffic, hit the mountains, snow, or dirt, unload ride all day, pack up and return all on the four fine pieces of rubber.
The Deegan 38 All Terrain by Mickey Thompson is engineered with an open-void all-terrain tread pattern and proprietary compounds. The durable construction is an excellent upgrade for today's pickups, SUVs.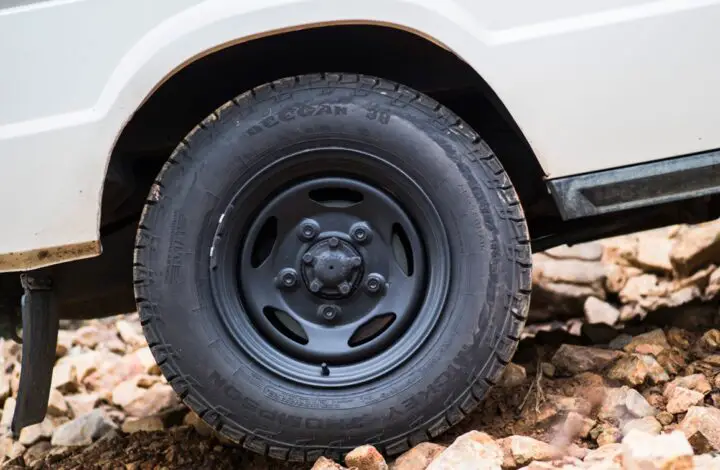 Where Are Mickey Thompson Deegan Tires Made?
Mickey Thompson Deegan 38 tires are made in the USA.
There are many tires that are made overseas in factories that pump out a lot of tires under different brands that end up in discount tire stores that will seem like a great deal, but with a lot of things in life, with tires, you get what you pay for. Mickey Thompson tires are made right here in the USA. You will pay for that. But you will receive an amazing and long-lasting set of tires.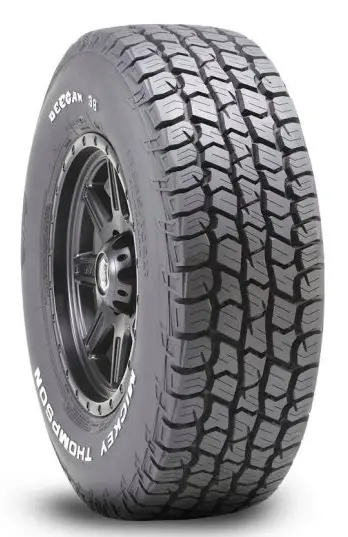 How Long Do Mickey Thompson Tires Last?
Mickey Thompson tires vary in mileage wildly. Generally, the stickier and softer they are, the better they will perform but the quicker they will wear out.
Generally Mickey Thompson all terrain tires will last you 30,000 miles. Some off-road tires will last fewer miles. The Mickey Thompson Deegan tires have 55,000 and 60,000-mile warranties.
If you plan on doing any racing then you automatically void any warranty that comes with the tires. So when you file a claim it is up to you whether you disclose racing involvement. AAny racing tires come with no warranty. Take them or leave them (many people are taking them!).
Are Mickey Thompson Tires Loud?
Mickey Thompson all-terrain tires are not too loud. You will most likely hear your engine over any tread noise on the freeway. Users give them a 6.5 out of 10 in terms of the annoyance of tread noise on the freeway. So assume they are middle of the road. No, Mickey Thompson tires are not loud.
The Mickey Thompson Deegan 38 tires are not loud. They are all-terrain tires, so expect some road noise when driving freeway speeds, and off-road, well you won't have much issue with tread noise when you're managing the whoops at 65 MPH.
Mickey Thompson Deegan 38 tires are some pretty badass tires. Expect to not use the full potential of these tires unless you are a serious off-roader that is used to replacing parts, straightening body panels, or removing pounds of dirt or mud on Sundays.
The Mickey Thompson tire brand is generally an upper echelon brand. You will pay a premium but you will get all-around excellent service, tire performance, and reliability. These tires are made for those that want to spend more for a higher quality product. And your money will go further than with a lot of other brands.
Specifically, Mickey Thompson Deegan 38 tires are some of the best on the market. They will get you from your garage to the dirt and back all in one piece, with optimal comfort on the street and on the dirt. They also look pretty sharp. They are not too aggressive, but all-terrain tires are not designed to be aggressive. They are designed to perform as best they can in the widest range of driving conditions.
If you can fit 38-inch tires on your truck and spending more than your average tire, I would not hesitate to purchase a set of these and forget about performance. Whether your daily driver commonly encounters snow, mud, and dry, or wet asphalt you will manage as best as you can with an equivalent tire. They really are that good.
Whatever you decide, Mickey Thompson tires are some of the best money can buy for your truck. They are long-lasting and high-performing and the price point will attract those that are looking for a tire of this caliber. Expect what you read from expert reviews. They will make you a better driver and a safer driver. This is absolutely a win-win combination more drivers should embrace.