Can you use mud tires for street driving? Knobby tires are not ideal for driving at higher speeds. In fact, some are not even street legal. They are designed for driving slower on uneven surfaces. They have rubber teeth that want to dig in and move the truck booty.
Tires are an often overlooked commodity. Many people think they can get away with using the same old tires that came on their vehicle for years, but what happens when they finally need to be replaced? The good news is there are plenty of options out there for new and used (but still relatively cheap) mud tires. We'll take a look at some of the best bargains currently on the market.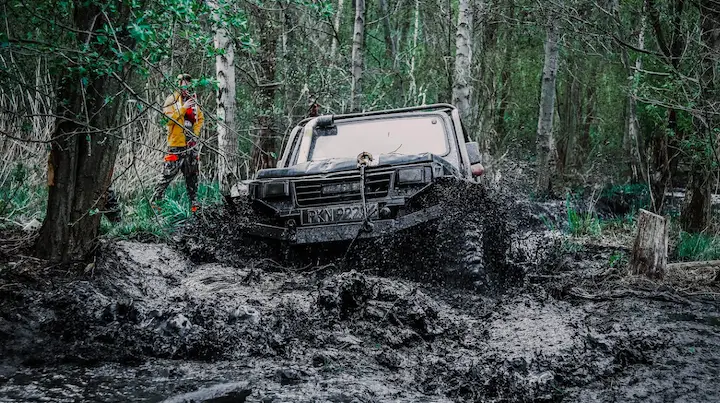 Cheap is relative. You can pick up a set of truck tires at Walmart for under $500. But if you are looking for tires that handle well off road or, in the mud, you are looking to pay more, sometimes much much more.
For example, a Fury Country Hunter M/T tire (one single tire) costs about $1,100. So a set of four of them with install and balancing can run you $4,500. So are you looking to spend a few grand? Well, this article isn't for you. Each of the tires is on the cheaper end of sub $300. Some are even sub $200. We will start with a set of tires that I am currently running and absolutely love.
The Best Cheap Mud Tires For Your Truck
1. Cooper Discoverer SST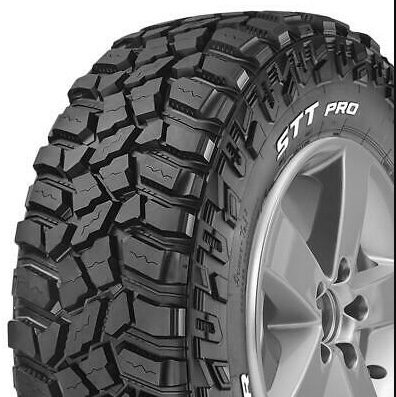 The Discoverer SST has replaced the MTP. Originally, it was developed specifically for Discount Tire. They wanted a competitive mud/terrain tire so the price will be favorable.
The Cooper Discoverer SST has been available in the market for a few years already. It has already gained popularity as one of the best tires you could equip your vehicle with; owing to Cooper's often cited insistence of making durable tires that will make you go the distance. Their warranty is excellent too.
For heavy-duty use on all types of rough terrain, the Cooper SST has you covered. This Cooper SST utilizes the latest engineering for superior off-road driving while maintaining more than capable on-road performance. The price is also a bit lower than many of the other top tires in class, making it a good value overall.
Physical Attributes
Staggered tread pattern for even wear
Sidewall excellent for off roading
Tread teeth are wider to eject rocks and perform offroad and on the pavement
Shoulders are large to enable better traction and handling
Siping to increase traction on wet roads
Grooves allow increased responsiveness and handling on mud
Benefits
Traction on rugged surfaces is excellent
Durable thread and sturdy materials
Performance in light snow is excellent
Drawbacks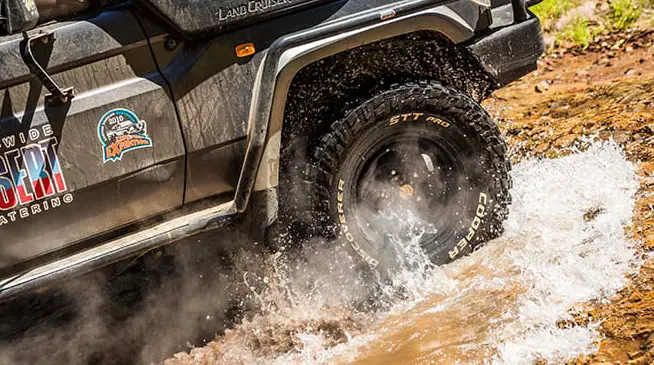 Key To Choosing
Buy the Cooper Discoverer SST if you want a mud tire that is more focused on off roading than on road.
What Sets This Tire Apart From Its Competitors
This tire has a very aggressive thread is quieter than its competitors. Similar treads on other tires will be louder and possibly less stable on the pavement at higher speeds.
2. Firestone Destination M/T2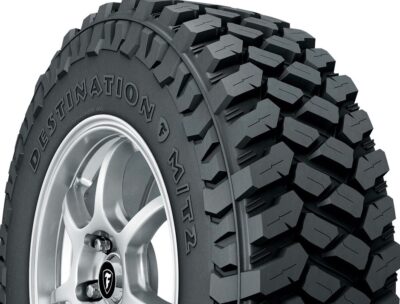 The Destination M/T2 from Firestone makes the list due to its excellent performance both on and off-road.
Firestone Destination M/T2 is one of the best mud terrain tires, for its ability to tackle the various elements and provide a comfortable driving experience. Firestone has designed the tire with a tread block pattern that allows it to have a strong grip on all surfaces.
Mud and snow traction is outstanding, and this tire cleans out as well as any other model in this class. On road comfort and drivability is equally impressive. With a longer-than-expected tread life, this tire is a serious contender for anyone looking for new mud terrain tires.
Physical Attributes
More biting edges to increase traction on snowy surfaces
Mud and debris ejectors to increase tread life
Sidewall to protect the tire from damage
Benefits
Handling and stability is excellent on off road and on pavement
Driving on straight roads and highways is very comfortable
Drawbacks
Prone to wearing out easily
Can become noisy over time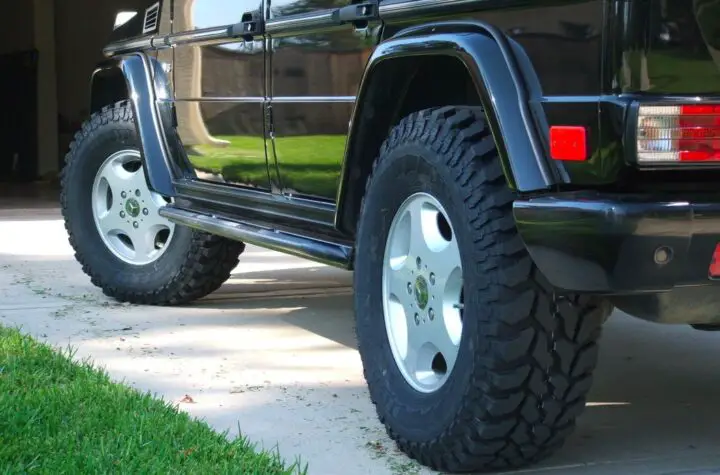 Key To Choosing
Deeper threads give you more life, provides superior on road handling and works as well as most mud tire off road.
What Sets This Tire Apart From Its Competitors
Its ability to perform excellently in all weather makes this a best buy for a mud terrain tire while being competitively priced.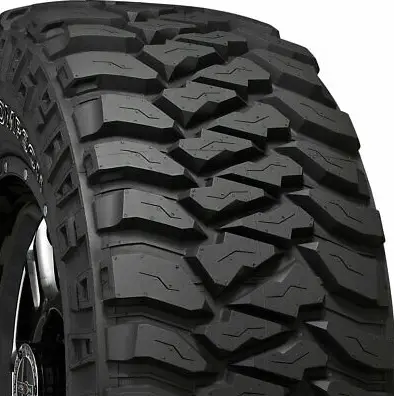 The Mickey Thompson Baja MTZ Radial is another best mud terrain tire, which offers excellent off road capabilities with the ability to power through mud and rocky terrain.
Combining aggressive off road performance with well-mannered highway capabilities is what you get with the MT Baja MTZ Radial.
The tire features unique Power Ply sidewalls with a third angled ply that helps in preventing punctures, as well as giving it increased handling and pulling power. Radial construction provides a smoother ride on the highway.
Physical Attributes
Advanced tire construction to provide good mileage
Lugs designed to increase traction in snow and mud
Biting edges to increase tire protection and afford more grip
Benefits
Amazing off road capabilities
Performance on dry roads make for a pleasant driving experience
Performance on light snow surfaces far above average
3 ply construction
Drawbacks
Tires are louder than others.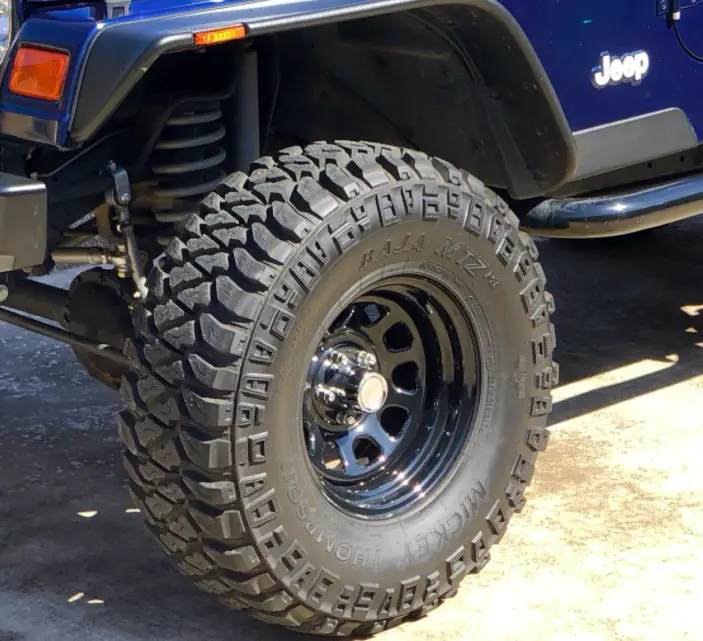 Key To Choosing
Less resistant to puncture, if you are focused on driving off road more than on pavement this is your tire.
What Sets This Tire Apart From Its Competitors
Mickey Thompson tires are off road first and everything else second. This is their attempt to make an off road tire that incorporates on road features as well. This is a well-rounded tire that doesn't compromise much off road capability.
4. Milestar Patagonia M/T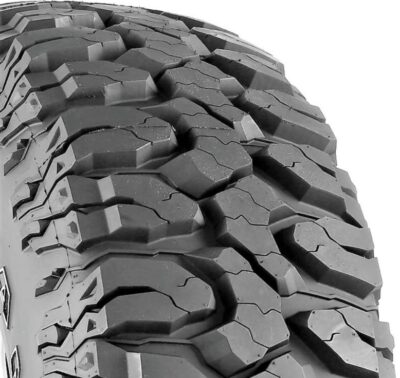 For budget-minded drivers, the Milestar MT is one of the best performing lower-cost tires available today. Its off-road traction is impressive in all areas, while it handles itself quite well on the street. This model is a sleeper among other MT tires and one that is a solid value as well.
The Patagonia M/T by Milestar is another tire featuring a stunning tread pattern, that doesn't compromise its ability to perform in harsh conditions. The 3-Ply sidewall design allows the tire to survive against impact, whilst the built-in stone ejectors keep debris buildup to a minimum.
Physical Attributes
Biting edges that provide added traction on all surfaces
Siping improves wet performance
Very aggressive appearance
Benefits
Performance on rugged and mud terrain is outstanding
One of the quietest mud/terrain tires available
Drawbacks
Tread wears out quickly
Off road capability is the worse on this list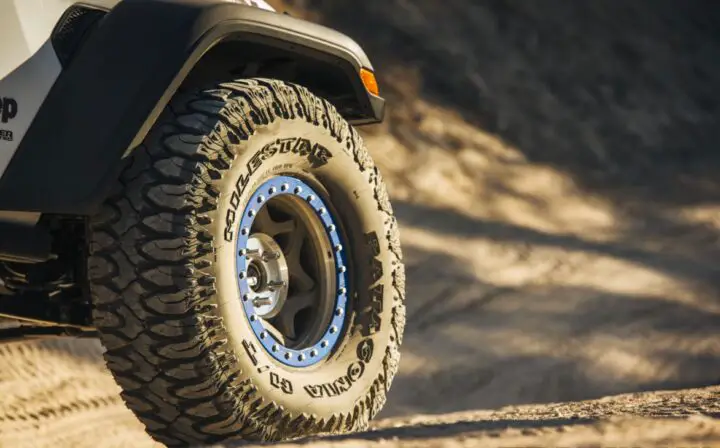 Key To Choosing
If off roading is strictly driving to and from campsites this tire is more than you need. More serious off roaders will be disappointed.
What Sets This Tire Apart From Its Competitors
A great first timers tire you can do basic off roading and have an excellent daily commuter with superior on road capabilities. One of the cheapest tires on this list.
5. General Grabber X3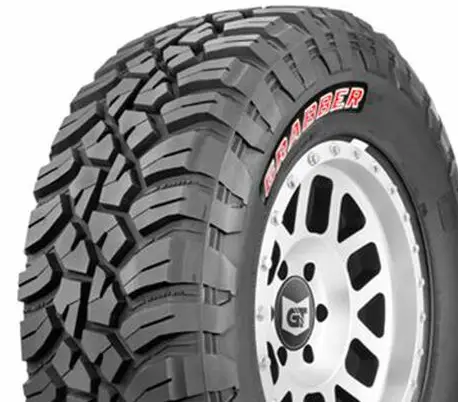 The super aggressive General Grabber X3 is a maximum traction off-road tire that isn't shy about its capabilities. The X3 here stands for extra traction in dirt, mud, and rocks. This is one of the most capable mud-terrain tires on the market right now, thanks to the off-road tread compound with a high void symmetric pattern. The Grabber X3 also has evacuation channels for clearing mud, and the proprietary DURAGEN technology for outstanding toughness and durability.
The off-road ability here is paired with very good on-road comfort. The ride quality is one of the best in this category, if not the best, while noise is not an issue at urban speeds. On top of that, the Grabber X3 also offers a reliable and safe driving experience in dry and wet conditions and good stability at higher speeds. That said, traction on packed snow could be better.
Physical Attributes
On road tire with off road features
Siped treads provide better wet-weather performance
Benefits
Surprisingly good on wet and dry surfaces
Very quiet
Improved fuel efficiency
Drawbacks
Not the most durable all-terrain tire

Key To Choosing
If you drive 75% on road and 25% of road and your truck is tour daily commuter these tires will be great. Any very muddy or sandy conditions may leave you wanting something else.
What Sets This Tire Apart From Its Competitors
These tires are cheap, quiet, and fuel-efficient on pavement that gives you some off road capabilities if need be.
6. Nitto Mud Grappler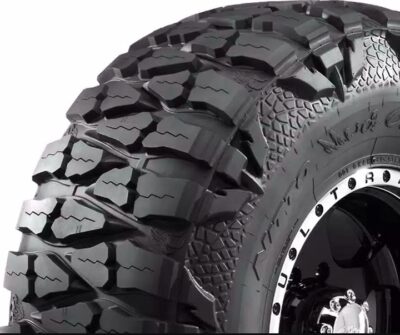 The Mud Grappler is a tire that according to Nitto combines the best of their all-terrain and mud-terrain technology, and that luckily translates into real life.
I personally think it is an amazing-looking tire and it performs excellently no matter how mad the driver is. I am breaking the rules here as it is pricier than the rest of the tires on this list. I have seen it for under $300 at times, so that is why I included it on this list.
Thanks to the staggered shoulder lugs and shoulder grooves, the Mud Grappler has very good traction in mud, and it is able to clean itself from it. Traction on dirt and rocks is also strong, and the Mud Grappler even comes with stone ejectors.
Nitto also promises a smooth and quiet ride on the road, thanks to the variable pitch tread pattern. While I can confirm that this is really the case in real-life scenarios, I am not as happy with the handling.
The Mud Grappler is completely usable on the road and provides a safe driving experience, but it sadly doesn't come with any treadwear warranty.
Physical Attributes
Best off road performance on this list
Deep thread design
Aggressive tread and sidewall
Benefits
Superior off-road traction
Smooth and quiet for an off-road tire
Safe and reliable on the street
Drawbacks
No treadwear warranty
Price

Key To Choosing
These are not for the beginner. If you want an aggressive-looking and excellent performing tire in off road conditions with comfortable "slower than freeway" speed this is your tire.
What Sets This Tire Apart From Its Competitors
Less focused on performance for the street this tire is one of the best mud/sand/off road/crawler tires you can buy. Period.
Best Cheap Mud Tires For Trucks FAQs
1. The Best Cheap Mud Tires For Trucks?
Racing tires are slick and do not even have tread. They are designed to grip a lot while providing smooth driving with maximum control.
these tires are specifically designed for off-road conditions where loose soil, jagged rocks, mud, and sand are prevalent. Mud-terrain tires ride rough, are very heavy, and are hard to balance. On roads, they would provide a noisy, uncomfortable, and difficult-to-handle ride. Short trips on roads are okay, but long trips are a definite no-no.
You should use mud-terrain tires in the conditions they are meant for. On concrete and asphalt, the tires will wear faster because of the softer rubber compounds, although they do grip better. When you drive them exclusively on loose soil, muddy roads, and jagged rocks, they'll last as long as all-terrain tires.
2. Are Mud-Terrain Tires Noisy?
Yes. That's because air gets trapped and released repeatedly in the grooves of the tire as it rolls along. If your mud-terrain tires have a directional tread, they'll be noisier with greater wear. The non-directional tread will be less noisy with wear, in comparison. But it will be noisy compared to other types of tires.
3. Do Mud-Terrain Tires Affect Gas Mileage?
The aggressive tread can hurt gas mileage as it increases rolling resistance, so your vehicle stays planted. If you are planning to use mud-terrain tires for the road, be sure to have your tires inflated properly. Lower inflation can lead to lower mileage, not to mention greater wear.
4. Can I Drive Mud-Terrain Tires In The Rain?
Depending on what roads you drive them on. If you're driving on well-paved asphalt or concrete, you may find it difficult to handle in the rain. Getting your old mud-terrain tires siped will allow you to have a better grip on the road without damaging the tire.
Then you can use them on the road in wet and dry conditions without having to worry too much about losing traction. But it's still preferable to leave your mud-terrain tires for off-roading.
Driving in snow is very different from driving in the rain. If you live in areas with heavy snow, you need a tire that digs into the surface and expels the load from its grooves. Mud-terrain tires have a tread design with lots of spaces in between compared to all-weather or all-season tires. Deep snow, slush, and of course, mud pose similar road conditions which shouldn't be a problem for these tires.
6. Why Buy Mud Terrain Tires?
If all-terrain and mud-terrain tires don't cut the mustard for you, then multi-terrain tires might be another great option. These tires are a bridge between the previously mentioned tire types. In other words, they offer better off-road traction, strength, and durability than all-terrain tires and better on-road capabilities than mud-terrain tires.
Of course, this also means that multi-terrain tires are worse in terms of on-road dynamics when compared to all-terrain tires, and worse for ultimate off-road traction than mud-terrain tires. However, due to their nature, I think that multi-terrain tires might be an excellent option for people that want reliable and safe driving on the street, without sacrificing too much in off-road ability.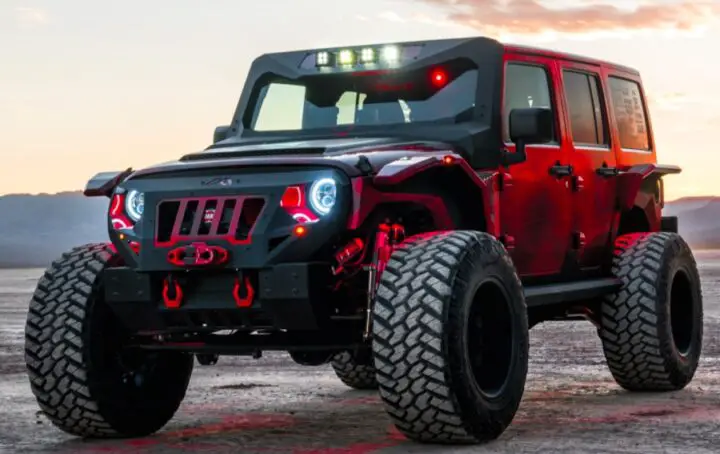 Main Takeaways – Best Cheap Mud Tires
Good cheap mud truck tires are hard to find. That's why I have put together this list of the best ones on Amazon for you! We've spent hours researching these and testing them out so that you don't have to waste your time trying one after another.
All of my recommendations below come with a 4-star rating or higher, are under $300 dollars, and will last at least six months before they need replacing again depending on how crazy you like to drive. So go ahead and pick your favorite!
Cheap mud tires are great for anyone looking to get into some mud bogging or who wants a set of tires on their truck, car, buggy, trailer, etc. They are also are usually more aggressively treaded than other types of tires which provide lots of extra traction on all kinds of surfaces!
One thing to note is that these cheap mud truck tires are not designed for highway use, so please don't drive on the freeway with them. If you plan on using these for racing or other off-road purposes where you're constantly turning and accelerating then it's also a good idea to get some stiffer sidewalls to prevent them from wobbling. You can always run without weights too but that's not recommended.
Cheap mud tires for your truck or sport utility vehicle may be a good way to go in some circumstances, while a more expensive all-terrain tire might make sense for doing chores on the farm. The cheapest tires may not last very long and will wear out quickly if you frequently drive on gravel roads or do other work that challenges your abilities.
But if you mostly stay on the pavement, the cheapest tires are likely to give you good service. And if your vehicle sits in the garage much of the time, you might even get three or four seasons out of a set of cheap mud-terrain tires instead of just one season with an expensive all-terrain tire that's designed for year-round use
You will have to decide for yourself whether it makes sense to pay more for a tire that is especially well suited to your needs or if you are better off with one of the cheaper tires from a lesser-known brand. But be sure to consider all your options carefully before buying, because certain very cheap tires can put you in a worse position than if you had gone with no tires at all.