Jeep wranglers are indeed a tough bloke of an automobile. While this toughness may be rightly attributed to its built, it is impossible to leave out one set of features/accessories that makes this automobile type a real beast on the road – the tires specifically made for jeep wranglers.
The tires not only complete the outlook of the jeep, but they also serve an immeasurable functionality advantage.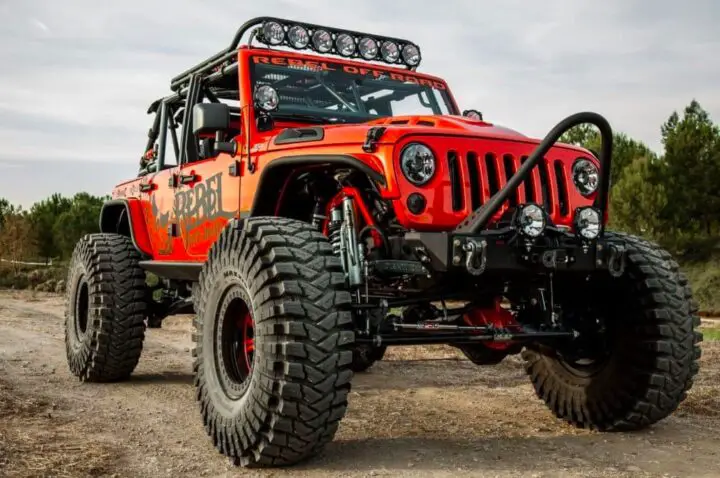 Though you may think every tire will work just fine, you have got to be more intentional about getting a set of tires that would stand the test of time, especially if you're the kind of driver who loves to ride though off-road terrains.
There are jeep wrangler tires for every terrain – be it mud, sand, or highway – and there is yet the "All-terrain" sort. So, in this review, I shall be discussing five of the best tires for jeep wranglers you will find in the market today.
Falken Wildpeak Tire
Let's hit the ground running with this premium-quality tire from Falken – the Wildpeak AT3W All Season Tire. It is an all-terrain tire that has been made to deliver the goods to a satisfactory end. This product has a load capacity of about 1,390kg, and is equipped with features that advance its functionality and durability.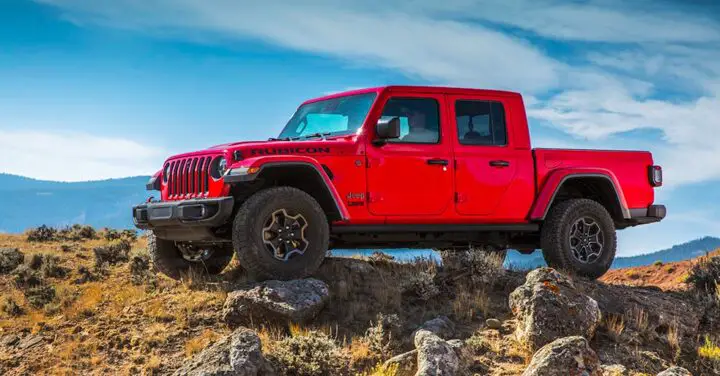 Among the notable features incorporated unto the Falken Wildpeak AT3W All Season Tire is the 3D Canyon Sipe Technology that helps imparts some wear-resistant attribute. This means that this tire's shape will remain intact irrespective of the twist and turn you subject it to. More so, its tread pattern is so well-laid-out to the extent that it does not permit stones to stay trapped within.
Again, as a way of ensuring that you enjoy this Falken Wildpeak Jeep Wrangler Tire for a long while, the manufacturer has also bolstered it with a heat-diffusing technology that helps to prevent the essential components of the tire from the damaging effects of heat.
PROS
Versatile
Ensures excellent traction even when used off-road
Reliable
Great value for money
Very durable
CON
The Falken Wildpeak AT3W All Season Tire has got a lot of positive reviews about it, and it is not difficult to see why this is so. This piece will guarantee you a smooth ride on any terrain, and its quality/durability will ensure that you do not change tires at rather alarming (quick) intervals. You will, no doubt, enjoy using it.
BFGoodrich T/A KO2 Tire
The BFGoodrich T/A KO2 Tire is another rugged one that reflects good quality, and it is designed to function in all terrains. The tread compound on this tire is etched from CoreGard technology which ensures impressive rubber thickness and prevents objects from getting trapped within the tire's unique tread design. As a result, the BFGoofrich T/A KO2 is protected from wearing and/or tearing easily.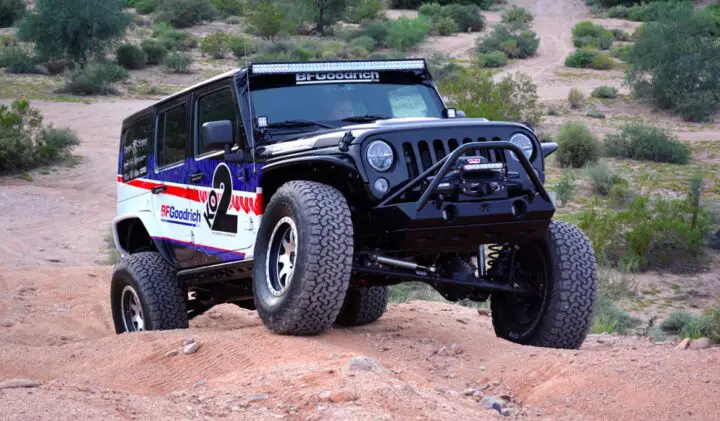 The 3D locking sipes also give this tire's tread ample biting edges that invariably guarantee stability and good traction as you drive – in essence, this further adds to the durability and functionality of the BFGoodrich T/A KO2 Jeep Wrangler Tire. That said, the speed rating of this tire is set at 'E', meaning that the maximum speed that assured control can be guaranteed while using it is 70km/h.
A lot of users [of this particular tire] have had so much to say about its effectiveness and quality. Another quality that has been a good impression on the minds of those who have been this product for years now is its durability.
PROS
All-terrain
Good quality
Highly durable
Impressive tread design
CON
BFGoodrich T/A KO2 Tires may not be made for top speed, but it cannot be overlooked when the discussion on the best tire for jeep wrangler is raised. This is down to the fact that it possesses virtually all the features that make top products in its category tick, and it is tested and trusted.
Kumho Road Venture AT51 Tire
This Kumho Road Venture AT51 Tire should for anyone who loves and knows good quality – not being biased in any way; it's just a statement of fact. The engineering input that has gone into making this one is simply top-notch, and the features even impart tremendous relevance in general.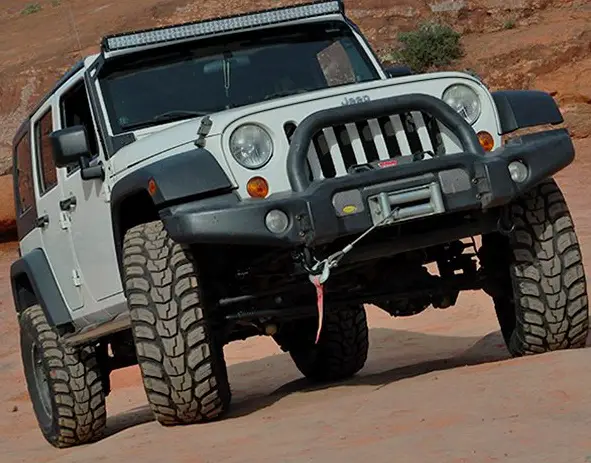 The outer tire tread, with the tread block, is present to guarantee excellent grip and stability, and this is yet boosted by the angled chamfer that the tire features. Heat dissipation is also never an issue with the Kumho Road Venture AT51 Jeep Wrangler Tire as it is constructed from dual silica – which is known to lower the incidence of wear and tear.
This should register as a rugged jeep wrangler tire without an iota of doubt. The whole set [of four tires] has a load capacity of about 1700 kg, and the integrity of its operation can be steadily when at a maximum speed of 170km/h. The quiet functioning and all-weather usability of this tire rank among the top reasons many persons have chosen it as their number 1 choice.
PROS
Versatile
Excellent traction guaranteed
Dual silica compound construction
Noiseless operation
CON
Tread design doesn't entirely prevent stones from getting trapped
Kumho Road Venture AT51 Tire in many ways, and it is really one jeep wrangler tire that should deliver possible (usage) outcomes to a reasonable degree. Having said that, I hope the manufacturer can finetune its tread design to address the singular glitch mentioned – as its con.
BFGoodrich T/A KM3 Tire
Let's visit BFGoodrich one more time to review the T/A KM3 Tire series which has been specifically made for a mud terrain. So, if you are looking to drive your jeep wrangler through the farm or maybe going to some muddy terrain, you may want to consider fitting this in. A lot of work has gone into making this product.
For one, it is constructed with 8 layers of rubber – a measure that imposes substantial strength and capability on the tire.
The Terrain-Attack tread design is yet another feature that drives home the point about the suitability of the BFGoodrich T/A KM3 Jeep Wrangler Tire for muddy terrain. The tread blocks and UTV-specific tread compound are also highly beneficial in this regard, ensuring that the tire maintains a good grip on the (muddy and rocky) roads.
Made for mud, but yet versatile as it still assures good traction in all weather – rainy, snowy/wintery, and dry seasons – and gives little or no noise while in operation. These are some of the notable positive comments made by individuals who have also had a first-hand experience of this piece from BFGoodrich. Plus, it can also achieve considerable degree of torque.
PROS
High-performing tire
Built to climb
Impressive tread design
All-weather functionality
CON
The BFGoodrich T/A KM3 Jeep Wrangler Tire will do a great job on muddy terrain, and see to it that your ride is hassle-free. This is definitely one (tire) to recommend for off-road enthusiasts/adventurers.
Bridgestone Dueler A/T Revo 2 Tire
Lastly in this review, I shall be discussing the all-terrain Bridgestone Dueler A/T Revo 2 Tire, an accessory that has got some exciting design features about it. The manufacturer leveraged the DuraTech/dual layer tread to present a piece that reflects immeasurable strength and capability.
This tire is well-constructed and will maintain satisfactory stability even at a speed as high as 190km/h – a solid jeep wrangler tire is all you've got in this very one.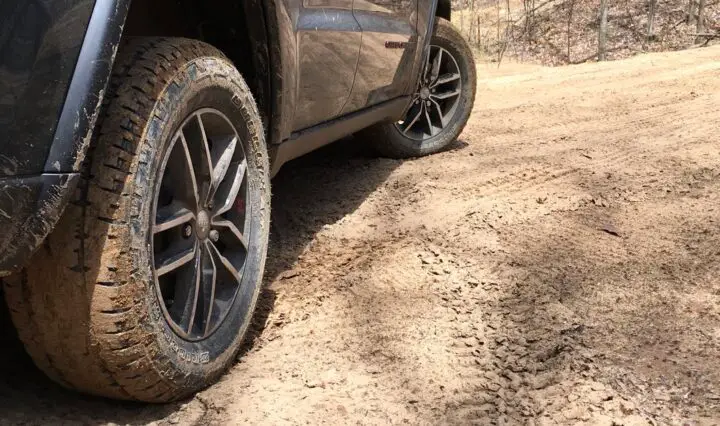 The tire features an open-shoulder tread design that would assure excellent traction on wet and/or mud terrain(s) – its performance on other surfaces is also commendable, by the way.
The tread block also boosts the actualization of a marked tread stiffness thus establishing the grip that makes for a smooth drive. The Bridgestone Dueler A/T Revo 2 Jeep Wrangler Tire has been built to reduce wear the occurrence of wear and tear to the barest and is durable on the whole.
A lot of persons that have been using the Bridgestone Dueler A/T Revo 2 Jeep Wrangler Tire seem to have no regret whatsoever as they commented glowingly about the quality and functionality associated with it. The quiet performance and increased fuel efficiency derivable from using it are also among the top reasons for the positive reviews.
PROS
Sturdy construction
Noiseless performance
Highly functional tread design
It enhances fuel efficiency
CON
It's only cool that I have this wrapped up with some sort of a blockbuster. The Bridgestone Dueler A/T Revo 2 Jeep Wrangler Tire is a true 'road-runner' – permit me to use that word here – that is ready to get on any terrain you wish to take it through – needless to say that you will find it gratifying when you eventually buy a set.
Conclusion
Having read the short review here, you should consider factors such as terrain, quality, tread compound, and design, as well as the size of the tire of your jeep wrangler before hitting the purchase trigger. Buying a jeep wrangler tire that would guarantee your safety on the road, and stand the test of time is simply non-negotiable.