An all-season tire that lives up to its name. This tire is loved by all that buy it. Use it for snow, off-roading, or daily driving, and you will be happy. It is quiet, confident, and long-lasting. The Hercules Terra Trac AT II is simply a solid tire.
The Hercules Terra Trac AT2 tire is the latest in all-terrain, go anywhere rubber. It's perfect for off-roaders who want to get to their favorite campsites or hunting spots without any worries of getting stuck on the way. With a variety of sizes and widths available, you can find your perfect fit with ease!

With the increased popularity of off-roading, there is a high demand for tires that can keep up with it. The AT2 provides that plus a whole lot more! The aggressive tread pattern leaves nothing behind, while the aggressive sidewall ensures grip when you need it most.
Bead Bite technology prevents your tire from slipping when you are in off-road conditions or even when turning sharply.
If you are not familiar, Hercules founded in 1952 is owned by Cooper. They are made in the US and China. The Terra Trac AT II is made in China. But the quality of manufacturing in China has improved over the last few decades. Worries should be minimized with the Hercules warranty.
Hercules Terra Trac AT2 is not your average truck tire. This aggressive-looking wheel was made for any driver who needs to navigate their way through traffic or tackle harsh terrains with power and speed–in other words, it's perfect if you own a truck!
With its 85% load rating (the highest in its class) this tire can handle more weight than others without losing traction on slippery surfaces like wet pavement during inclement weather conditions such as snowstorms; making them an excellent choice whether driving across the country from California all the way down south to Florida or if they live in a city where roads are always covered with snow.

Hercules Terra Trac AT2 Overview
Their warranty is solid – 2 years or 50% tread wear for free replacements. The tire is designed to grip in slippery conditions. This means it is a softer rubber that can dig in more than harder rubber tires. This also means softer rubber wears quicker so it won't last as long. They rate this tire to last 60k miles. That's a lot for its diversity.
Hercules adds silica to the tread so it slows tread wear. This is crucial to better performance AND longer tread life. So basically more bang for your buck. At this price point, you are getting a lot of truck tire.
The tread is more aggressive than a normal on-road tire. As they want it to perform well in off-road conditions with limited use. You don't get tractor performance, but you won't feel like you're driving on ice after a few minutes of rain.
If you are a weekend warrior and you want to drive your Jeep Wrangler from your weather-controlled garage to the hills with a quiet and smooth ride these tires are a top choice. They will get you through any weather condition with a lot of control. That is their main selling feature. And for around a hundred bucks a tire you really are getting ahead.
The look of this tire screams off-road monster, but it's not loud on the freeway, and it won't slip and slide and wear out after one season.
With any larger tire balancing may be an issue. Tire shops may want to charge a little bit more to balance them.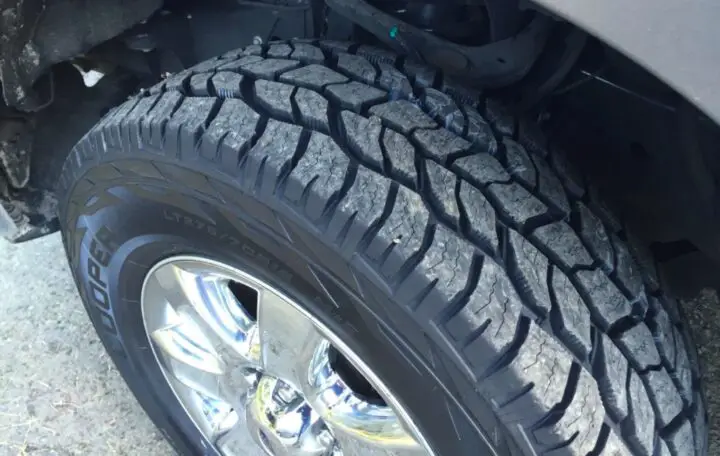 Hercules Terra Trac AT2 Physical Attributes
Aggressive design
Unmatched load-bearing capacity
Best tire life in its class
Treads designed for superior balance and stability on treacherous terrain
Abrasion-resistant dual steel belts under the tread area offer greater protection against punctures to extend tire life in off-road conditions
An all-season tread design with deep five-sided shoulder grooves can tackle wet, slushy pavement in the winter months while providing superior water evacuation when driving through mud or coming out of a puddle in the summertime
Two wide steel belts under the center area provide additional protection against road hazards such as nails, screws, or other objects that could puncture the tire
Puncture-resistant material underneath the tread area includes multiple layers to prevent excessive damage to the casing if you inadvertently hit something on your way
The balanced rubber compound also increases rolling resistance for longer wear at high speeds and less fuel wastage
These things weigh in at 29.48 lbs each
Benefits
60,000 mile 6-year warranty
Tire tread performs excellently in all weather on road conditions
Performs well with no serious off roading
Aggressive styling
Tread scallops give you adaptive control
Perfect for daily drivers
Drawbacks
Looks may be too aggressive for some
Thread scallops don't last 60,000 miles
If you drive off road a lot these tires may not perform well
Key To Choosing
The Hercules Terra Trac AT2 is an all terrain tire that will give you great performance in all weather conditions on the pavement. If off roading is very important you should look elsewhere.
What Sets This Tire Apart From Its Competitors
The Terra Trac has all the features of more expensive tires in a package that costs under $150. They are not too common but if you want a tire that looks and drives excellent and you want to save money look no further.


Main Takeaways – Hercules Terra Trac AT2 Truck Tire
The Hercules Terra Trac AT2 truck tire is designed to be fast-rolling and wear-resistant for long periods of time. It has a low rolling resistance, which means it consumes less energy than other tires on the market. This tire also features an asymmetrical tread design that improves traction in wet weather conditions while reducing noise levels during driving.
This truck tire is a great tire for any trucker because of its speed, durability, and price point. It has an 85% load rating which means it can handle more weight than other tires on the market while still maintaining control in wet or snowy conditions.
You'll also get up to 95 mph speeds with this model while saving money over other models that offer fewer miles per gallon. So if you're looking for inexpensive but high-quality tires then I recommend checking out the Hercules Terra Trac AT2 truck tire today!
The Hercules Terra Trac AT2 tire is a great all-terrain tire. It offers superior traction in wet, dry, and snowy conditions while preserving the safety of your family with its Q3 protection system that reduces treadwear by 50%.
With an industry-leading warranty for up to 60k miles or 6 years on purchase, you can feel confident knowing this will be one investment worth making. What are you waiting for? Get out there and explore!